Product code: 3522
Flat sheet Calico Vanilla Zastelli 11-2409
Not available
Description
View
:
Flat sheets
Material
:
Cotton
Manufacturer
:
Zastelli
Color
:
Size sheet
:
200х220 sm
,
220х240 sm
Gloss-free fabric. The surface structure is flat. The color is solid.
Zastelli calico sheet is perfect for adults and children.
Сalico bedding is considered hygienic and hygroscopic.
Sheet perfectly withstands hand and machine wash.
Thanks to a wide range of colors, you can choose a sheet as an alternative replacement for an existing set of linen. Moreover, you can become a designer and come up with an individual bedding set.
Related products
Product code: 1052
Duvet cover ZASTELLI Calico Elite solid dyed or print
from 221 UAH
Buy
Product code: 3515
Pillowcase Delicacy Zastelli 11-2409
72 UAH
Buy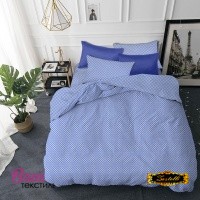 Product code: 1792
Baby bed linen set Zastelli 26
811 UAH
Buy