Quilts
Quilt Zastelli Antistress
Product code: 1040
Quilt Zastelli Antistress
Description
Size
:
200х220 сm.
,
140х205 ±5 сm.
Filler
:
Feather/down
,
Antiallergenic
Manufacturer
:
Zastelli
Type
:
Warm
,
All-season
Fabric: "Antistress" fabric with silver ions
Filling: "Eco fluff"
A feature of this model is the case. It is made of ultra-modern fabric "Antistress" with addition of silver ions. Thanks to ionization, no static electricity arises between the body and the blanket. Gently and kindly it envelops the body and gives a feeling of warmth and comfort.
Hypoallergenic eco-down is used as a filler in the Zastelli Antistress Quilt, (very gentle, airy and almost weightless artificial swan down). It perfectly passes air and is ready to withstand a large number of washings.
Looking for a gift for a friend, a gift for parents, or just need a gift idea? Quilt Antistress TM Zastelli perfectly copes with this task.
Packing: suitcase bag.
Parameters: width 60 cm, height 40cm, depth 20 cm.
Weight quilt 140х205 cm - 2 kg.
Weight quilt 200х220 cm - 3 kg.
Reviews
10.04.2020 16:42
Name:
wura
Красивое и удобное одеяло. Заказ пришёл быстро, буквально за пару дней. Магазин и одеяло советую.
27.03.2018 14:25
Name:
Карина
Покупкой осталась довольна. Спасибо за оперативную доставку и качественную консультацию. Рекомендую всем))
Add review
Related products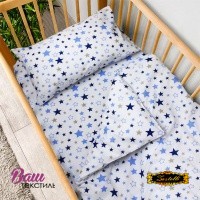 Product code: 1720
Bed linen set for newborn Zastelli 365
489 UAH
Buy
Product code: 3441
Quilt 4 seasons Zastelli
525 UAH
Buy
Product code: 3467
Jacquard pillow Word of Dream JQ37
277 UAH
Buy