Bed linen sets
Bed linen set Word of Dream FSM509 Jacquard with embroidery
Product code: 1670
Bed linen set Word of Dream FSM509 Jacquard with embroidery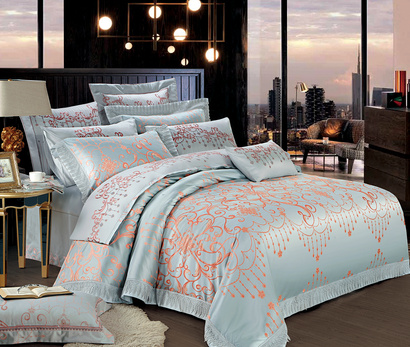 Description
Type
:
Family
,
Euro
Мanufacturer
:
Word of Dream
Material
:
Jacquard
Color
:
Grey
Size duvet cover
:
200х220 sm
Quantity duvet cover
:
2
,
1
Duvet cover
:
On zipper
Size of Sheet
:
220х240 sm
Quantity Pillowcase
:
4
Decorating
:
Printed
:
Multicolored
Sizes:
Description:
Blue with pink is considered one of the most delicate and beautiful combinations. It is able not only to decorate, but also to emphasize the dignity of the interior, especially when it comes to the bedroom. These are rather complex and multifaceted colors, therefore, most often, they are preferred by people inclined to sophisticated and thoughtful design solutions. If you are one of them, we recommend buying Word of Dream FSM509 jacquard bed linen with impressively beautiful embroidery.
Jacquard composition:
Jacquard fabric is a fabric with exquisite, regularly repeating patterns. Jacquard is not a material for the manufacture of fabric, but a method of weaving fibers, which managed to please even Napoleon himself! One of the main advantages of jacquard bedding is its noble appearance (recreates the ornament and the figure of the tapestries: the picture is viewed from both sides of the fabric). This bedding is durable (the threads are not damaged by mechanical stress, the fabric does not stretch or wrinkle), the color does not fade, and the pattern does not wear. Due to its texture, jacquard bedding is pleasant to the touch. Embroidery gives your bedding an extra touch of flair and personality to your room. In addition, it is easy to care for.
Also, a feature of all bedding from English brand Word of Dream are zippers.
Equipment:
Euro: Duvet cover - 1pc, 200x220cm, Sheet - 1pc, 220x240cm, Pillowcases - 2pcs, 50x70cm.
Family: Duvet cover - 2pcs, 145x210cm, Sheet - 1pc, 220x240cm, Pillowcases - 2pcs, 50x70cm.
Care recommendations for bedding set:
Washing products at temperatures up to 40°C.
We recommend that you wash contrasting fabrics separately.
Iron at temperature "cotton" (140-170°C).
Dry cleaning is forbidden.
It is forbidden to use bleaches and other chemicals.
Dry at low temperature.
Reviews
09.04.2020 18:30
Name:
Katya
У меня сейчас то самое чувство, когда ты безумно доволен своей покупкой!!! Очень долго выбирала, но цвет и качество постелнього белья оказались великолепными. Вышивка аккуратная и качественная. Все швы ровные. Очень понравилась дополнительная упаковка (пакет с логотипом), удобно забирать с НП. Спасибо за оперативно выолненный заказ.
Add review
Related products
Product code: 3487
Bed linen set Zastelli Cells with Leaves Cotton
from 703 UAH
Buy
Product code: 305
Camel quilt Word of Dream
from 2604 UAH
Buy
Product code: 3468
Jacquard pillow Word of Dream JQ35
277 UAH
Buy