Quilts
Camel quilt Word of Dream
Product code: 305
Camel quilt Word of Dream
Description
Size
:
200х220 сm.
,
140х205 ±5 сm.
Filler
:
Camel wool
Manufacturer
:
Word of Dream
Type
:
Especially warm
Fabric: 100% cotton
Filler: camel wool with 3D fiber
Word of Dream Camel quilt has many benefits.
It has antibacterial properties. Camel wool contains a large amount of animal wax (lanolin), which is a natural antiseptic. Word of Dream camel quilt is very warm and light. Camel hair consists of coarse, hollow hair and soft, like down, undercoat. It is lighter and more durable than other types of wool.
Such quilt heals. Due to the warming effect, blood vessels expand and blood circulation is activated, as a result of which the metabolism and restoration processes in body occur faster. In this regard, buyers note that due to the listed properties, products made from camel hair help to get rid of osteochondrosis, rheumatism, neuritis, arthritis and other diseases of the musculoskeletal system.
Not electrified.
Thanks to the addition of three-dimensional hollow fiber, camel quilts perfectly retain shape, volume and resilience for many years.
Packing: suitcase bag.
Parameters: width 50 cm, height 40cm, depth 20 cm.
Weight quilt 145х205 cm - 2 kg.
Weight quilt 200х220 cm - 3 kg.
Care instruction:
Delicate wash 30 degrees.
Bleaching with bleach and chemicals is prohibited.
Ironing is not allowed.
Delicate drum drying.
We recommend replacing the quilt with a new one approximately every 4 years.
Reviews
16.11.2020 05:47
Name:
diamond39
Внимательно рассмотрела упаковку и яркий вкладыш с описанием продукта. Все говорит о натуральной верблюжьей шерсти внутри. Приятно удивила цена. Знаю, что одеяло с наполнителем из натуральной шерсти, верблюжьей или даже овечьей, стоят значительно дороже. Цвет однотонный, хороший - не маркий, и нет яркого рисунка, который проглядывает сквозь пододеяльники.

В общем, купила... и полюбила. Ждем всей семьей нового завоза, нам надо еще!
07.12.2018 10:46
Name:
Oksana89
Очень рада что нашла этот прекрасный магазин, отличное качество, быстрая реакция, отправка в день заказа. Заказываю уже не один раз и всем советую. Спасибо вашему магазину!
03.10.2018 15:54
Name:
Ольга Борисовна
Самое крутое одеяло, которое мне когда-либо приходилось покупать! И большое, и приятное, и не душное, и под любой современный пододеяльник подходит, и нет мерзкого синтетического шуршания. Сплошные достоинства
10.03.2018 19:15
Name:
Александра
Покупала родителям на подарок для холодных ночей. Одеяло однозначно понравилось. При температуре в комнате 17 градусов под ним - комфортно. Когда в комнате теплее - одеяло совсем не парит. Легкое, поначалу немного шуршало, но в процессе использования это прошло.
17.01.2018 11:11
Name:
Наталья
Замечательное! Стирку выдержало стойко и не ударило в грязь лицом)) Одеялом довольна. Качество, действительно, английское
12.01.2018 13:56
Name:
Карина
Великолепное и очень теплое одеяло. Долго не решалась купить (то денег жалко, то одеяла нет в наличии)))). А теперь, принимаю поздравления как его счастливый обладатель и собираюсь покупать такое же родителям
Add review
Related products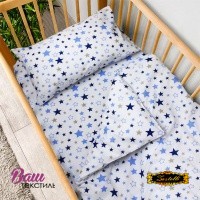 Product code: 1720
Bed linen set for newborn Zastelli 365
489 UAH
Buy
Product code: 1039
Quilt Bamboo Zastelli
from 612 UAH
Buy
Product code: 3507
Pillow 4 season
138 UAH
Buy